Many household items are not safe for our water system. These items pollute our waterways when they are poured down the drain, on the ground or into storm sewers.
PET WASTE: Get rid of it right away!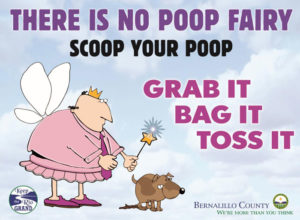 Pet waste is fecal matter (poop) deposited by pets. When it isn't picked up, it can be carried away by stormwater flows (streets, sidewalks, trails, yards, etc.)
Pet waste can travel with stormwater runoff to the Rio Grande and can transmit diseases to other pets
When walking with your pet, take a plastic bag along and dispose of the waste properly in a trash receptacle.
Be aware of any Animal Control ordinances that govern pet waste clean up –if the law is violated, you could be subject to prosecution.
FLUIDS: Dispose of it properly!
Return used motor oil for recycling: Never pour oil onto the street or down a storm drain. Most gas stations accept used oil, and so do many automotive stores.
Remove automotive fluids from your driveway: Soak up liquids with wipes or absorb the surface oil with granular coconut husk or kitty litter/clay and dispose of in the trash receptacle. Once dry, wet the stain with water and scrub with a stiff brush and a paste made from baking soda and water, or a few drops of dish detergent. Absorb after 10–60 minutes. Repeat as needed.
Keep fats, oils and grease out of storm drains
Follow any instructions for use and disposal provided on product labels.
Share unused products with friends, neighbors, or local groups.
Never burn or bury hazardous waste; this can cause water and air pollution.
Never pour hazardous waste down street drains or storm sewers, or dump along roadside.
YARD WASTE: Keep it clean!
Yard waste consists of leaves, grass, branches, and anything else from your yard. When it rains, it can be washed into the street and go down a storm drain.
Avoid dumping your yard waste into the trash.
Check the City Ordinances. Investigate the rules and regulations that govern yard waste disposal in your city or county.
Use a compost bin.
Shred your leaves.
Sweep sidewalks and driveways – never hose them.
Keep fertilizers, pesticides, and weed killers out of storm drains: use as instructed on the label to avoid over-application (when too much is applied the unused portion can be washed off with rain) and properly dispose of containers. Any unused pesticides or fertilizers that you don't want can be taken to the Household Hazardous Waste Collection Center.
TRASH: Clean it up!
Never litter - always dispose of trash in a proper container
Keep trash bins and recycling bins secure from wind until trash day
Volunteer for trash clean-up events
Try to avoid excessive packaging when making purchases
Household Hazardous Waste
Leftover household products that contain corrosive, toxic, flammable, or reactive ingredients are considered household hazardous waste. Products such as paints, cleaners, oils, batteries, and pesticides that contain potentially dangerous ingredients require special care when you dispose of them. The Household Hazardous Waste Collection Center accepts most of these wastes and there is no charge to use this resource.
Examples of household hazardous waste items (not all inclusive!)
Appliances
Air conditioners
Microwave ovens
Refrigerators & freezers
Automotive and marine/boat products
Antifreeze
Automobile batteries
Brake fluid
Carburetor cleaner
Engine degreaser
Fire extinguishers
Flares
Gasoline
Transmission fluid
Used motor oil
Batteries
Electronics
Empty tanks and containers
Butane and propane tanks
Commercial gas cylinders
Diving tanks
Empty containers
Fire extinguishers
Helium tanks
Scuba tanks
Underground storage tanks
Glues and cements
Contact Cement
Epoxy
General purpose glue
Instant glues
Model cement
Rubber cement
Rubber cement thinner
Hobby chemicals
Artist's paints
Chemistry sets
Photographic materials
Household cleaners
All-purpose cleaners
Ammonia
Antibacterial products and disinfectants
Chlorine bleach
Drain opener
Furniture polish
Metal cleaners
Oven cleaner
Rust remover
Spot and stain remover
Toilet bowl cleaner
Indoor pesticides
Ant/roach killer
Flea killers: sprays, foggers, powders
Flying insect killer
Lice shampoo
Mothballs
Rat poison
Miscellaneous household goods
Asbestos
Cooking oil
Empty containers
Fire extinguishers
Smoke detectors
Treated wood
Outdoor pesticides
Garden Fungicides
Lawn, garden, or house plant insect killer
Slug poison
Weed killers, weed and feed products
Wood preservatives
Paint and solvents
Empty Containers
Latex paint
Lead-based paint
Oil-based paint
Other solvents
Paint stripper
Paint thinner
Spray paint
Varnish/lacquer
Personal products
Hair color
Hairspray
Medicines
Nail polish
Nail polish remover
Products with mercury
Fluorescent lamps
Jewelry
Mercury fever thermometers
Mercury-containing thermostats